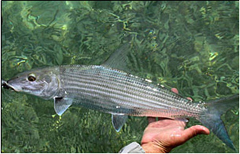 Tackle
7 or 8wt fast action rod
Reel with 150yrds backing
Floating Bonefish line
12ft GR bonefish leader
Key West Bonefishing
---
Bonefish are found the world over in warm, sub-tropic waters: know scientifically as, "Alldonta Seeya," and nicknamed the, "ghost of the flats," but often referred to with explicative infused monikers which should not be repeated here.
A full 62% of all world record bonefish were landed in the Florida Keys and with great reason. Our crystal clear flats are teeming with shrimp, crabs, clams: all the fodder that make bonefish happy tailers.
The bonefish is one of my favorite quarry while fishing with a fly rod, and I can think of only a few better places than the Florida Keys. If you can cast an 8 weight rod thirty-five feet, you can experience a fish that will rip off 150 yards of backing and turn your legs to Jell-O.
The delicate tailings of feeding bonefish make such a slight disturbance on the surface waters: leading most to dismiss them as wisps of wind. An experienced guide does not let this go unnoticed or un-inspected.
Speed and power are the fighting qualities of the bonefish that bring people to spend days, months, and lifetimes wading endless flats. But it is the serine solo wading, just you and the flats that keep you sane and wanting more. Who needs prosaic, when you can wade pristine flats and let them melt the tensions of the business world away.
The best Bonefishing occurs from late May to late October, with the best months being June, July, August, and September. We see, stalk, and hook bonefish in excess of six pounds on a near daily basis during the summers in , and can always find schools of five pounders ready to give your heart the aerobic workout it needs.
Exotic Travel
Want to visit a destination where there are more bonefish per square mile than anyplace on earth?
Ascension Bay, Mexico offers the hands down best Grand Slam opportunities in the world. Join us in Punta Allen, Mexico at Capt. Greg's Fisherman Lodge.
Carousel