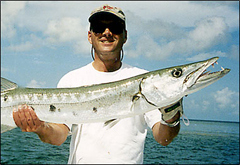 Tackle
8-10wt fast action rods
Reel with 150yrds backing
WF Critter line
GR Critter leader
Carne Grande
---
The old saying, "There are other fish in the Sea,"  holds especially true in Key West. You should be rigged and ready for a multitude of species.
During the late Fall months and into early Spring finds us sight casting to the Giant Barracuda. Using 9 or 10 weight fly rods and poppers with wire leader trace, the 'Cuda' is an outstanding fish to target and has saved many a days fishing with its lightning fast runs and aggressive behavior.
While out prowling the permit flats between November and March, you will more than likely encounter the Cobia. A pelagic species, the cobia migrate to the warm waters of the Florida Keys during the winter and can be found following sting rays onto the shallow flats to hunt crabs and shrimp. Never a fish to be classified as fussy or picky, Cobia will readily take almost any fly delivered with even the poorest presentation.
If you want to catch, "Jaws," on a fly rod, Key West is home to most of the IGFA records for Black Tip, Lemon, Bull, and Tiger Sharks. We have outstanding shallow water fishing. Using techniques developed in the Keys, you can expect to cast to 100 lb. plus sharks in water as shallow as two feet.
Other species we target are the entire jack family, sea trout, lady fish, pompano, and snapper.
Too Many Cuda!
Ascension Bay, Mexico, needs your help. We have way too many Barracuda, Sharks, and Jacks. Fly Anglers are ignoring them and they are getting out of control... overly aggresivie, feeling left out, and snapping at anything thrown in their face.
Join us in Punta Allen, Mexico at Capt. Greg's Fishermanlodge.com.
Carousel