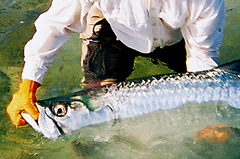 Tackle
10-12wt fast action rod
Reel with 200yrds backing
Tarpon float and inter sink
Type fishing dependent leader
Key West Tarpon
---
Tarpon are the premier sport fish for fly fishermen wanting to sight cast in crystal clear waters. Key West and the Florida Keys are undoubtedly the greatest destination for shallow water sight casting to tarpon.
Beginning in mid-January and lasting into early July, hundreds of thousands of migratory tarpon pour into the local waters to feed and rest, following shallow water routes that they have used for thousands of years.
Little unchanged for eons, tarpon need to surface and "gulp air," to compliment the oxygen pushed across their gills while swimming. Tarpon can be seen, happily gulping air and rolling in the early mornings and late evenings as they prepare for breakfast and supper, respectfully.
And those are the times that savvy guides take you to the fishing hot spots that test both your tackle and muster.
Tarpon are a semi-renewable source of excitement for fly fisherpersons and should be afforded the utmost respect from anglers.
A Giant Tarpon will battle you until it is on death's door and needs to be respected by an angler by putting the screws to the metal and not backing down. Whoever blinks first, loses!
Shhh...secret
The Lost Man Lagoon complex of Ascension Bay, Mexico, is over a hundred square miles of pure virgin, tarpon territory. 99% of the local guides are scared to enter.
We began mapping this area eight years ago and we only allow two boats to enter per day.
During May and June, migratory tarpon to 100 pounds can be found an hour inside.
If you enter with another lodges guide...we are pretty sure you wil never make it out alive. Yes, it is that remote.
Join us in Punta Allen, Mexico at Capt. Greg's Fisherman Lodge.
Carousel